600W 200-240V LED underwater fishing lights diving light
Description
200-240V 600W 30M cable Ocean Boat Fishing Night Fish Underwater LED Fishing Lights
Inquiry
200-240V 600W 30M cable Ocean Boat Fishing Night Fish Underwater LED Fishing Lights
Brand Name:

Longshi

Item Type:LED 

Underwater Lights

Application:

OCEAN, LAKE, RIVER

Body Material:

PVC, STAINLESS STEEL

Features:

Attracting fish, Diving lamp, deep sea lighting

Model Number:

B4B060-600W

Certification:

RoHS,CE

Protection Level:

IP68

Voltage:

12V, 24V, 200-240VAC

Warranty:

1 YEAR

Light Source:

LED Bulbs

Power:

600W

Cable length:30

M

Size:

156*340mm

Material:

AL+PMMA

IP Rate:

IP68

Lumens:

35000LM-55000LM

Net Weight:

17.5KG

Item name:220

V 600W Ocean Boat Fishing Underwater LED Fishing lights

Beam Angle:

360 Degree
If you want to know more about 8W ~ 2800W LED underwater fishing lights, feel free to contact us. 
​
DC12V 600W 15M cable Ocean Boat Fishing Night Fish Underwater LED Fishing Lights
Parameters:
Remarks: Cable only can be 10-15Meters long.
               Please do not cut the thread to less than 10 meters.
               Also do not extend the line more than 15 meters.
               These case will burn dowm the lamps.
At begining:                                                                            1 Hour Later:
Advantages
1. Power: 8W-100W;
2. Applied wide voltage: AC85V-305V,DC12V-24V;
3. Many different kinds of famous- brand led chips for choices, and the luminous efficiency of led is above 135lm/w;
4. More than 50,000 Hours' lifetime, one-time investment, long-time payback;
5. Offer white light, green light and blue light, and color rendering index can be over 85;
6. The beam angle is 360degree, also offer customized service;
7. Special design for heat sink, perfect cooling system making the light more stable and durable, extending the lifetime of led and driver;
8. IP68
9. Energy saving system, saving 70% electricity than the conventional metal halide or HPS light;
10. No halation, no UV or IR radiation, no harm to humans; free-pollution without harm eyes and skin without lead and mercury.
11. Anti-shock, anti-moisture, no RF interference, no buzzing noise and no flourescent flickering-stable;
12. Excellent self-cleaning function;
13. Easy to install and maintenance free;
14. 72 hours of testing before shipping;
15. We can offer solutions for customers free and Dialux simulation can be provided as well
Application
Fishery: to promote the hatchery and growth of the fish;
Fishing: installed on the boat to attract the fishes when fishing in the sea
How to Choose Fishing Light Colour
Attract prawns, squids and Fish to your favourite spot with these super bright LED fishing lights.
These Underwater Fishing lights can penetrate up to 75m through water to attract marine life at night.
We recommend the following colours for these applications:
-White color for General Purpose
-Blue color for Prawns and Fish
-Green color for squid
-Red color is best for attracting Saury.
Warning:
1. Must keep the lamp in water 3 minutes after power off. So that the heat dissipated.
2. Cable can not load-bearing, If the light more than 2KG, please use a rope to lift the lamp
Warm tips: Price is not including export and import custom or tax. You have to pay for them when local delivery agent contacts you.
Feedback: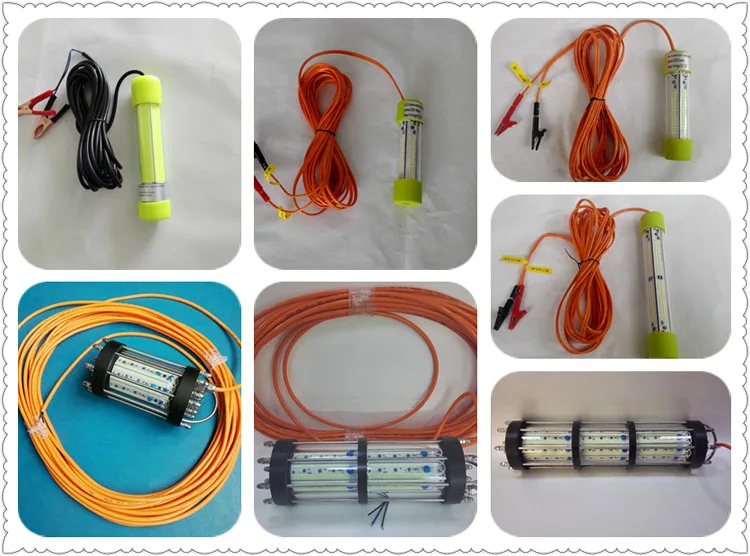 Company Information
Shenzhen Comlite LED Ltd. is the professional manufacturer of solar LED fishing lights and other LED lighting, with years of experience, strong R&D and engineering capabilities in solar LED fishing lights.
We mainly produce solar LED fishing lights and other LED lighting, which are mainly exported to Europe, North America, South America, Australia, South Africa etc. And get high reputation from those markets. First grade products and professional service are what we constantly pursue for.